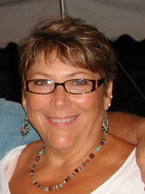 Debra McClennan-Wagner ~ Owner/NY State Licensed Aesthetician
I have been a practicing aesthetician for more than 11 years. My career started by first working at The Botanical Day Spa. I was then recruited to a plastic surgeon's office, where I extended my craft learning microdermabrasion, and pre- and post-surgery treatments.
I recently completed my certification in oncology esthetics 7-13

In 2001, I opened my own business--The Skin Care Studio. I am certified in Reflexology, Aroma Therapy, and Raindrop Therapy, and am currently an instructor of aesthetics at Capri Cosmetology in Newburgh, NY. I graduated from the Hudson Valley School of Aesthetics in Highland, NY.
As a wife and mother, we all are so busy with family, work and our homes. We all need a little time for ourselves. When you enter The Skin Care Studio, it is your time to relax, have a facial, massage or whatever treatment you choose; time to feel rested and renewed by the time you leave.

The Skin Care Studio...
Where it's more than a facial, it's an experience.